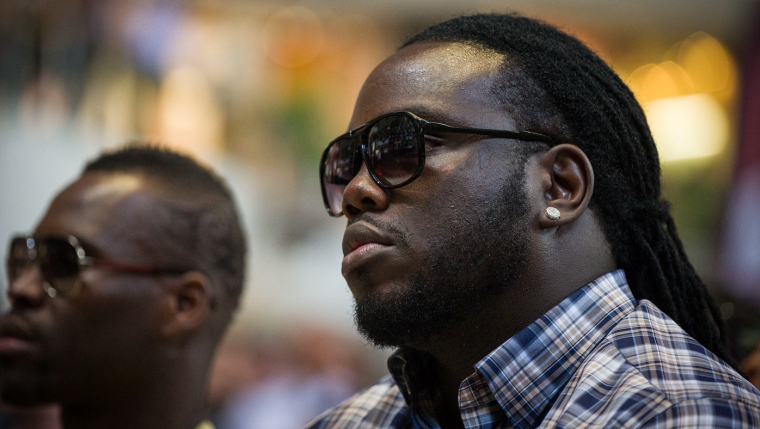 MONTRÉAL - La nouvelle est tombée hier et a eu le même effet sur le corps que le temps glacial qui régnait sur le centre-ville de Montréal vendredi matin : Bermane Stiverne devra vraisemblablement se résigner à affronter Chris Arreola en juin au Mexique.
Le gérant de Stiverne, Camille Estephan, souhaitait ardemment que le combat pour le titre vacant des poids lourds du WBC soit présenté en terrain neutre. Le président d'Eye of The Tiger Mangement se donne néanmoins encore quelques jours pour accepter ou décliner l'offre.
« Je dois étudier la situation avec mes conseillers, mais je ne suis pas convaincu que nous devrions y aller », a analysé Estephan en marge d'une conférence de presse tenue dans un hôtel de la métropole. « Nous pouvons avoir des juges et un arbitre neutres, cela nous protège d'une certaine façon, mais la foule va quand même applaudir chacun des coups d'Arreola. »
« C'est Bermane qui est l'aspirant numéro un et Arreola le numéro deux. Nous nous sommes déjà battus chez lui en Californie. Ce serait à notre tour d'avoir notre chance maintenant. »
Stiverne avait facilement battu Arreola par décision unanime des juges dans un duel éliminatoire présenté en avril dernier à Ontario en Californie. Et après que le détenteur du titre Vitali Klitschko eut finalement été nommé champion émérite en décembre, le WBC a ordonné la tenue d'un nouveau choc pour la ceinture vacante entre les deux boxeurs.
Il n'y a cependant pas eu foule au portillon de départ pour accueillir ce deuxième rendez-vous entre les deux poids lourds. L'offre la plus intéressante semble être venue de Villahermosa, une ville d'un peu plus de 640 000 habitants qui n'a jamais présenté de combat de championnat.
« C'est situé au milieu de nulle part, ce n'est pas un endroit touristique comme Cancún, qui aurait été un compris acceptable », a déploré Estephan. « C'est l'argent qui a dicté les choses. »
Même s'il y a peu d'espoir que les promoteurs Don King et Dan Goossen changeront d'idée, Stiverne semble quant à lui prendre le tout avec philosophie. Il faut dire qu'il n'en est pas à un premier revirement de situation près, lui qui est officiellement aspirant obligatoire depuis sa victoire aux dépens de Ray Austin par arrêt de l'arbitre au 10e round en juin… 2011!
« Nous en avons discuté pendant une heure et demie et Bermane préférait en rire plutôt qu'en pleurer », a avoué Estephan. « Il prend cela de la bonne façon, parce qu'il n'a jamais reculé devant un défi. Sauf que cela reste mon devoir de regarder le côté affaire des choses. »